TikTok Ads Examples: Working Ad Recipe Hacked
During the early days of the pandemic, people were looking for ways to explore their creativity. Coincidentally, the gradual rise of TikTok came during this period, featuring many trendy TikTok ads examples. And when combined with the captivating Reels content format, TikTok became one of the most popular platforms.
At the moment, over 656 million users have downloaded TikTok since 2021, driving the global user count to 1 billion. With these numbers in mind, it makes sense why marketers are flocking to TikTok as the new marketing frontier for their advertising campaigns.
But before you kickstart your campaign on the platform, let's explore creative TikTok ad examples from companies that got it right.
7 Perfect TikTok Ad Examples For Inspiration
Data from the Business of Apps shows that the average TikTok user spends 52 minutes on the app daily, which means they can only view the best, trendy content during that time. So, if you want your TikTok ads to reach as many users as possible, here are examples to follow:
KFC Malaysia
The globally successful fast-food chain created a finger-linking good TikTok commercial to increase lower-funnel conversions, as well as drive purchase intent.
KFC Malaysia combined the power of TikTok's Reach and Frequency ads with the Brand Safety Inventory filter to launch a myriad of ads. Staying true to type, the company focused on appetizing delicacies and mouthwatering recipes, combined with socially-aware content exclusion preferences.
As a result, KFC Malaysia's campaign increased brand acceptance by 6% and boosted the purchase intent by 5.5%. The videos generated over 26 million views while maintaining a 99.8% safe delivery rate.
IHOP
Only a few things can top combining your TikTok marathon with a bit of your favorite pancake — and IHOP really bit into the pie on this one.
The International House of Pancakes rebranded itself briefly in 2021 as part of the Halloween campaign, adopting a new name, "International Haunted House of Pancakes." (Yeah, that's a bit much to chew).
Nevertheless, IHOP collaborated with influencers like DJ @IsaacLikes_ to create organic In-Feed ads in which they displayed new features to viewers.
The IHHOP campaign reached over 33 million TikTok users, accumulating over 134,000 landing page clicks, 289,000 likes, and 2000 shares — and that's just from DJ @IsaacLikes_ account. Overall, this led to a 26% lower CPM (cost per mille) than the national average on TikTok.
Haier (Malaysia)
Music is a crucial component in all TikTok ad examples because it adds a melody and vibe to the overall narrative — and young consumers love those cute dances.
Electronics and home appliance company, Haier, takes this to another level by launching an ad campaign that allows users to create custom content using Brand Inventory filters and other TikTok special effects.
As part of Haier Malaysia's TikTok marketing campaign, they launched the #HaierAirPower Challenge. The main attraction of this challenge is that the top creators with the most views can win prizes.
Since the challenge is still going on, we couldn't obtain conclusive performance metrics for it. You can still hop on the trend and stand a chance to win exciting prizes.
eBay
The eCommerce marketplace eBay wanted to position itself as the go-to platform for kicks, which taps into a vibrant, young audience pool.
To this end, the company created a custom #LaceEmUp challenge in which users could post videos of themselves lacing up their kicks while performing dance moves — move over Michael Jackson.
With a massive push from influencers like Jaden Hossler, the challenge helped eBay attract around 500,000 users, reaching a total view count of over 1 billion and an overall 5.2% increase in engagement.
NOS
Communication giant NOS created a TikTok ad campaign that gathered 33.6 million views and 53,000 video creations.
How did they do it? For starters, they partnered with Havas and Arena Media to use Branded Hashtag challenges in Portugal. They prioritized Christmas, allowing users to use the Snow Globe effect and adding the #OMeuNatal hashtag.
By the end of the campaign, the NOS brand had reached over 1.87 million TikTok users in Portugal, who also accounted for almost 25,000 unique effect plays.
GUESS
When American clothing apparel company GUESS launched the #InMyDenim challenge, they wanted to present a fun and vibrant brand image. This ad campaign was part of the Fall' 18 Denim Fit Collection, targeting millennials and Gen Z shoppers
The go-to soundtrack for the challenge was Bebe Rexha's "I'm a mess," launching the week-long ad campaign boosting the channel's following by 12,000 new users.
Overall, the company released four videos featuring influencers and attracted over 1600 user-generated content. Currently, 53.4 million users have watched videos related to the #InMyDenim hashtag.
Amazon SG
We all love unboxing videos: the sheer joy of watching something new come out of a box draws nearly the same views as a cute pup playing with a toddler. And Amazon knows that this is how to drive awareness to a product, which led to the creation of the #UnboxAmazonPrimeSG campaign.
The unboxing challenge relied heavily on In-feed Ads and Branded Effects, with a significant boost from popular creators who added dance routines to the mix.
As a result, the Amazon SG was able to reach more than 900,000 people through its custom hashtag challenge. The 9000+ videos created for the challenge under this ad initiative garnered over 3.6 million unique views.
K18
K18 is a haircare brand that came into existence in 2019, just as TikTok started gaining traction globally. The company decided to hop on this new blazing hot platform to raise awareness among young users.
For the ad campaign, K18 partnered with famous TikTok influencers like Heidi D'Amelio to run Spark Ads directed toward users within the haircare demographics.
To track their growth metrics, they focused on hashtag views, video views, and follower growth. Essentially, K18 was able to boost product awareness by 70% — they gained over 2000 followers and 500,000 views organically. The company's custom hashtag #K18Hair was viewed over 70 million times.
The Ultimate TikTok Ad Recipe
If you want your ads to perform highly and hit all key benchmarks, here are expert suggestions to follow based on the examples mentioned above.
Choose your objective
Before you start posting ads for any campaign, define the goals.
Do you want to create awareness for a new product?
Are you looking for new followers?
Do you want more engagement?
Outlining these goals will help you (and your marketing team) pool resources toward a common goal.
Choose your audience
With a clear understanding of the goals for your ad campaign, narrow down your audience to a specific demo. Data from Hootsuite shows that most TikTok users are under 24 years old. So, try to tailor your content to this crowd if you want to boost all key metrics.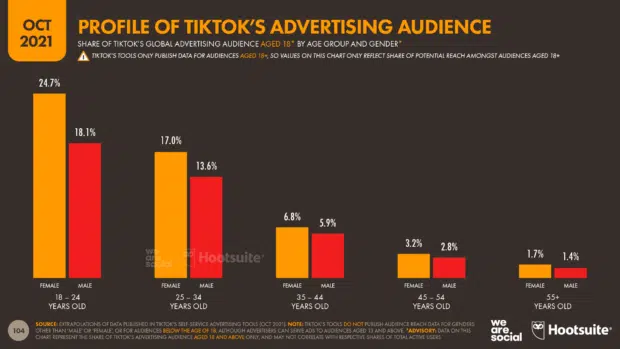 Select a catchy name
It is all about hashtags, baby! Well, and a catchy name too. To be fair, "International Haunted House of Pancakes" doesn't quite roll off the tongue, but it's IHOP; they can get away with it.
On the other hand, you have catchy names like #LaceEmUp and #InMyDenim — names that will stop viewers in their tracks and convince them to check out your content and join the challenge.
Work with influencers
Nothing beats a recognizable face using a product by your favorite brand. As a business looking to collaborate with influencers, names like Zach King, Khaby Lame, and Addison Rae should be on your wishlist.
Use the Creator Marketplace to spot the best influencers for your brand, and join the column of 86% other marketers using top creators for ad campaigns.
Encourage user-generated-content (UGC)
Sometimes, using celebrities makes your product feel out of touch with the "regular" consumer. If you want to make your brand relatable, allow user-generated content as part of the ad campaign; they outscore branded videos by 8% on TikTok.
Create something fun
TikTok is a platform that supports fun content creators. Like GUESS's ad campaign, you can create a dance challenge for your ad idea. Don't take yourself too seriously; add a little bit of pizzazz and character to your brand's online personality.
Place the right ad
According to Neil Patel, In-Feed ads generate more revenue and conversions for small businesses than other ad types. But that doesn't mean you should only pump out In-Feed ads. Let's check out other ad formats:
Spark ads — promotes already existing content.
Pangle ads — available through TikTok's Audience Network.
Carousel ads — available on content carousels.
Brand takeover — a full-screen static or dynamic display
Branded effects — includes sharable stickers, filters, and special effects.
Topview ads — unskippable intro ads that play once you open the app.
Use multiple ad formats to maximize exposure, returns, and conversions.
Track your progress and optimize
It all comes down to gathering data and analyzing them properly. Use advanced analytic tools to gather actionable insights on your ongoing ad campaigns.
You can track ad analytics directly for the TikTok's Pro version or use automation tools like AdBraze to test several ad placement ideas before launching the campaign. From the intel gathered, adjust your approach to improve on future campaigns.
Outro
Launching a successful ad campaign on TikTok is a challenge, but if you have the correct methods and tools, your brand could even go viral. Depending on your audience demo, you can use custom, branded content to deliver your brand's message to viewers. Also, TikTok offers several custom tools to help marketers diversify ad revenue. And most importantly, don't underestimate analytics if you want to run successful ads.