Key Instagram metrics to follow in 2022
Instagram gained over 1.36 billion active users in 2021, becoming the fourth most popular social network and cementing its place as the go-to platform for online marketers. As the number of active users on Instagram continues to increase, marketers and brands are looking for ways to engage them with relevant content. With features like Stories, Reels, Posts, and Sponsored Ads, companies can increase brand exposure significantly.
But even if you plan and execute a solid campaign, you still need to gather advanced Instagram analytics to figure out the best approach for boosting sales and conversions.
For example, how does a business interpret a 5% CTR in terms of success? Is it ideal or too low for companies within your industry?
Let's explore the relevance of analytics in Instagram marketing, as well as the importance of monitoring benchmarks for every content format.
Overview of Instagram analytics
Marketers, influencers, and gamers rely on Instagram to grow their personal brands. Data from the Influencer Marketing Hub shows that 33.9% of gamers prefer Instagram, behind only Facebook (41.7%) and YouTube (48.7%).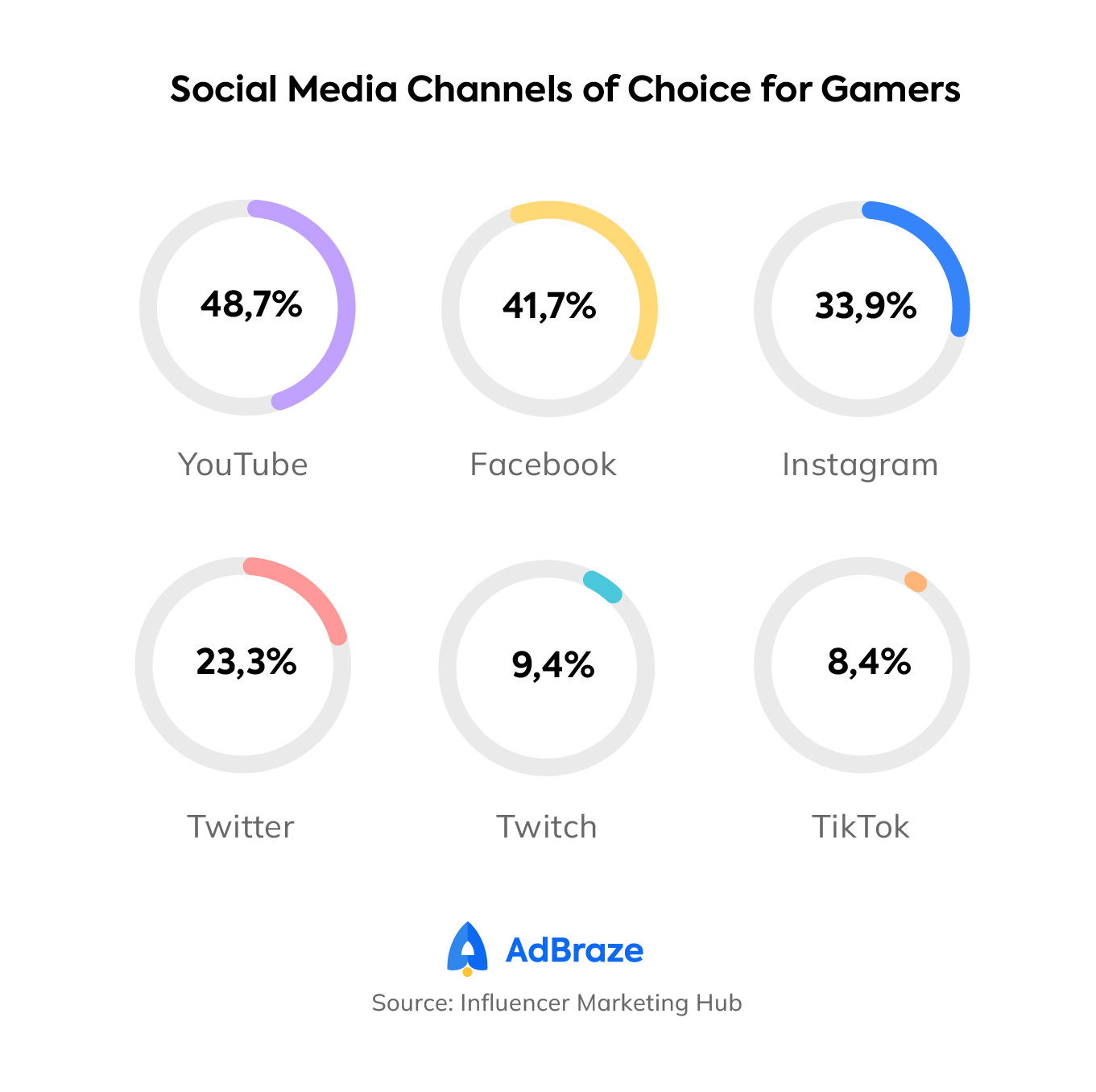 Instagram ads can also reach over 1.5 billion people over the age of 13, which is around 20% of the global population. Users from Kazakhstan (78.7%), Brunei (70.5%), Turkey (68.4%), and Iceland (66.5%) rely primarily on Instagram services.
In 2022, Instagram's core demo consisted of Gen Z and Millenials. At the same time, older people (55 and above) also continued to join the platform, albeit at a lower rate.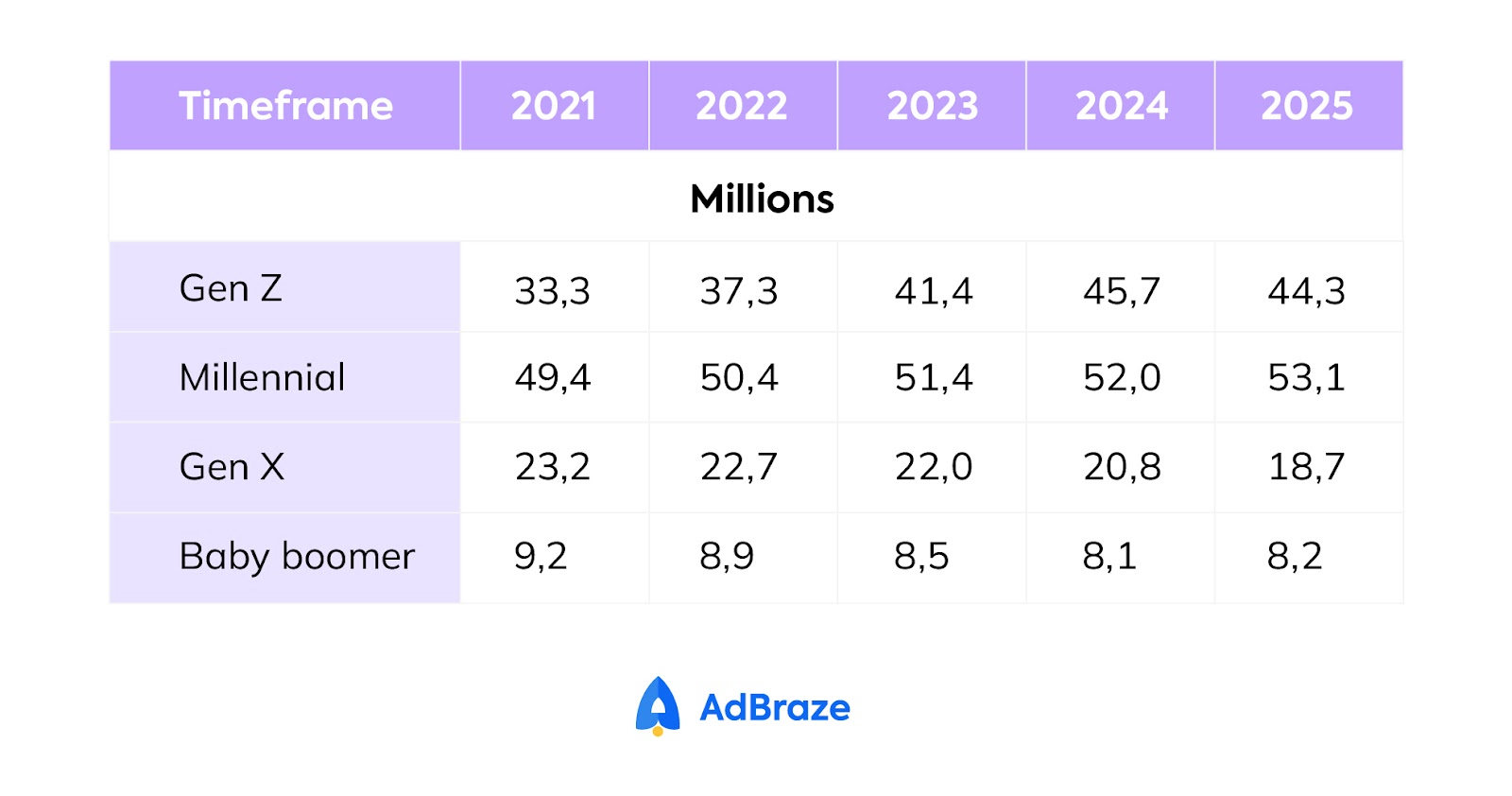 Instagram also has a similar global reach to Facebook. Currently, over 180 million people use Instagram in India, while the user count in USA and Brazil are 170 million and 120 million, respectively.
According to data from Sidecar, the click-through rate (CTR) on Instagram ads is around 0.58%, which means that marketers rely on them for brand exposure rather than conversions.
From the Influencer Marketing Hub study mentioned earlier, the engagement rate on Instagram content is down 25% from 2020. Although most of this decrease in content engagement results from the pandemic, TikTok's current popularity is also a potential contributing factor.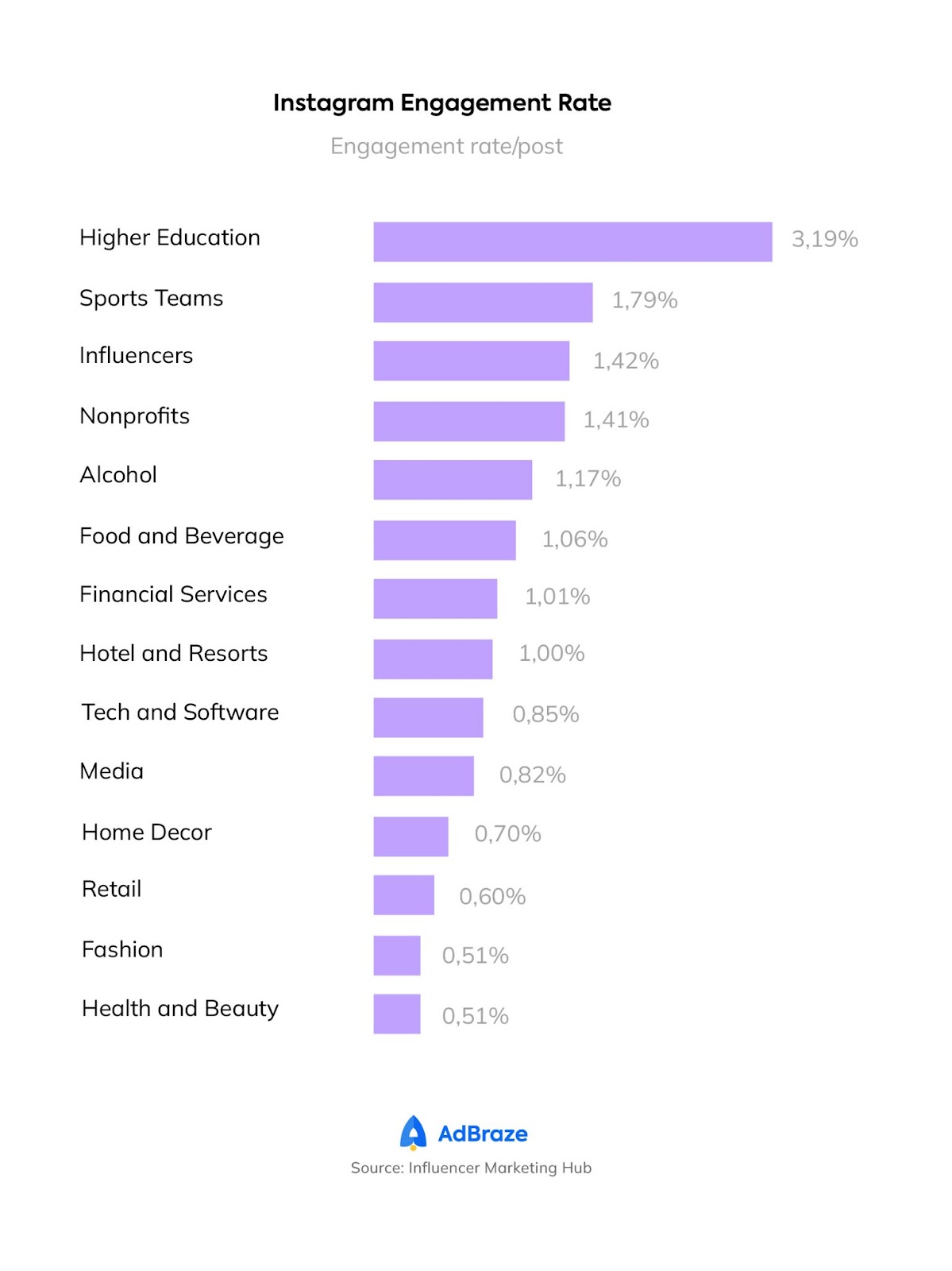 Judging from these numbers, Instagram is gradually becoming a mainstay in social media marketing.
Instagram Posts benchmarks
Instagrams posts fall under three categories: photos (71.9%), videos (14.2%), and carousels (13.9%). Regardless of the post type, some key Post benchmarks include the following:
Post frequency — the number of posts over a specific period. Sports teams post at a higher frequency, reaching over ten posts per week. Tech companies have a lower post frequency, delivering content to users twice a week. Overall, the ideal median posting frequency is 4.0 posts per week.
Post reach rate — the post's coverage compared to your follower count. In terms of overall reach, the number to bear in mind is the Organic Reach Rate — which should exceed 7% for every content type.
Post engagement per impression — the number of likes, comments, and shares for every unique impression. The median engagement rate for posts is 0.98%. This number can rise to 1.8% for sports teams or stay below 0.6% for retailers.
Caption length. The ideal length varies according to the post type; captions with over 350 characters are 24% more popular, while captions with 70-140 characters are 14% more popular.
Saves engagement rate — the number of unique saves for every story. The average saves for Stories should hover around 0.5%.
How to view Post insights on Instagram
Follow these steps to view insights on your posts.
Visit your Instagram profile.
Select a post you'd like to view insights on.
Below the image, tap "View Insights."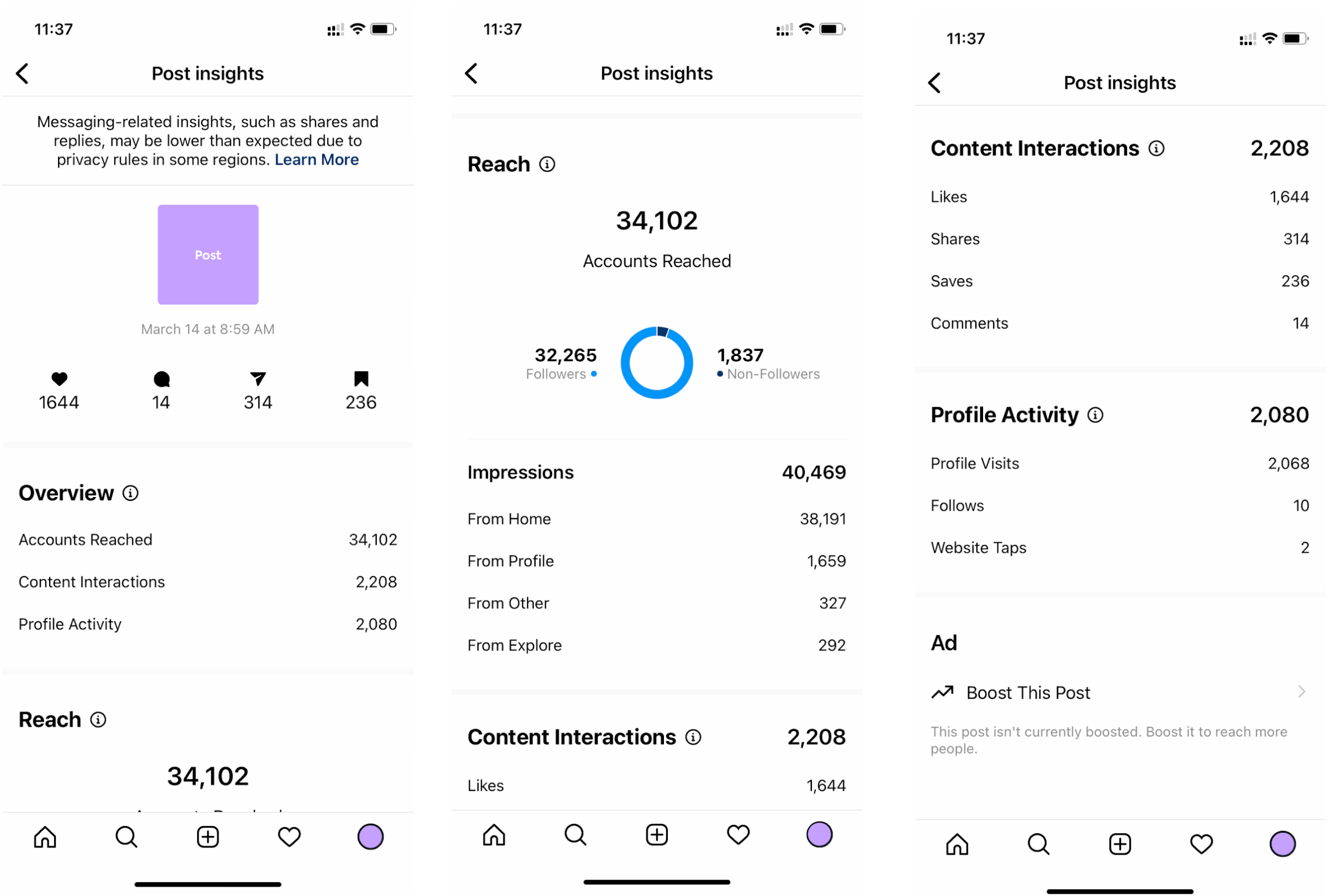 Alternatively, tap the drop-down at the top of the screen to view insights within a specific timeframe. You can now view the post and discovery metrics you want.
Instagram Stories benchmarks
Stories allow viewers to consume your content for only 24 hours. Here are the benchmarks to aim for whenever you upload a Story on Instagram:
Engagement rate — the number of users interacting with your content. For brands with less than 50k followers, an 11% engagement rate is acceptable. Alternatively, a 7.7% reach rate is enough for brands with over 100k followers. Also, the engagement rate for photos (13%) should exceed that of videos (8.5%).
Tap forward rate — the percentage of viewers skipping to the next frame. Brands should aim to keep the tap-forward rate between 60% and 70%.
Completion rate — the number of viewers that watch every frame to the end. The average completion benchmark for every industry is 87%.
Reach rate — the percentage of followers who have seen your Story. For business accounts, the average story reach rate is 3.5%.
Frames per day — the number of content you post on your stories within 24 hours. For 2022, the median frame per day is 2.
Tap back rate — the golden metric that shows the viewers' willingness to re-engage with the content. The median tap-back rate is 4.0%, but high-end brands see tap-back rates closer to 7.0%.
Reply rate (Replies per mille) — the number of replies per 1k viewers. Aim for 0.1 replies per 1000 Story impressions.
Exit rate — the number of people who exit the Story before viewing the final frame. Single-frame stories have an average exit rate of 11%, while Stories with more than three frames have a 4% exit rate.
Your aim as a marketer is to minimize the exit rate and maximize the completion and tap back rates.
How to view Story insights on Instagram
Follow these steps to view Story insights:
Visit your live story by tapping your profile picture.
To view insights on a past story, tap the "Insights" action button on your profile and find the story under "Content You Shared."
Swipe up on your story content.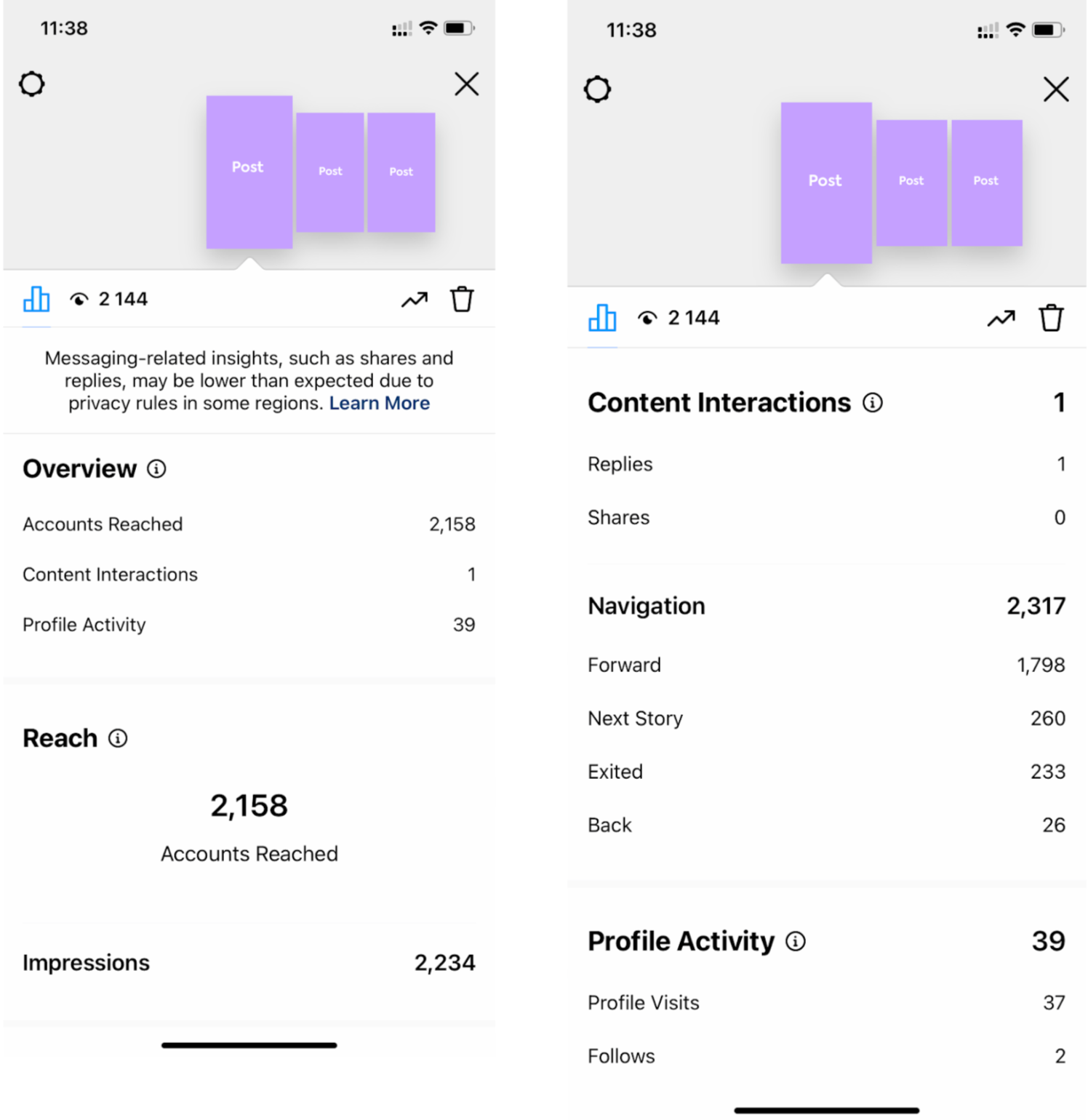 Now, you'll be able to view interactions and discovery metrics for your stories.
Instagram Reels Benchmarks
Reels is an Instagram feature that is a formidable rival to TikTok, especially among Gen Z and Millennials. Here are benchmarks to track on Instagram Reels:
Engagement rate — likes, shares, saves, and comments. For Reels, an engagement rate above 3% should be your brand's target.
Plays — the number of unique views or plays. The view rate for your Instagram reel should hover between 40% and 60% of your follower count.
Reach — the number of accounts reached. Your Instagram Reel should reach at least 25-35% of your target audience.
Click-through rate (CTR). The acceptable CTR for Instagram reels is 0.88%.
How to get reels insights on Instagram
Follow these steps to view insights on your reels:
Go to the "Reels" tab on your Instagram profile.
Select the reel you'd like to analyze.
Tap the "..." icon in the top right corner of your reel.
Tap "View Insights."
You can view interaction and engagement metrics for every reel. To get an overall view of all reels during a specific period, use the "Insights" option on your profile page.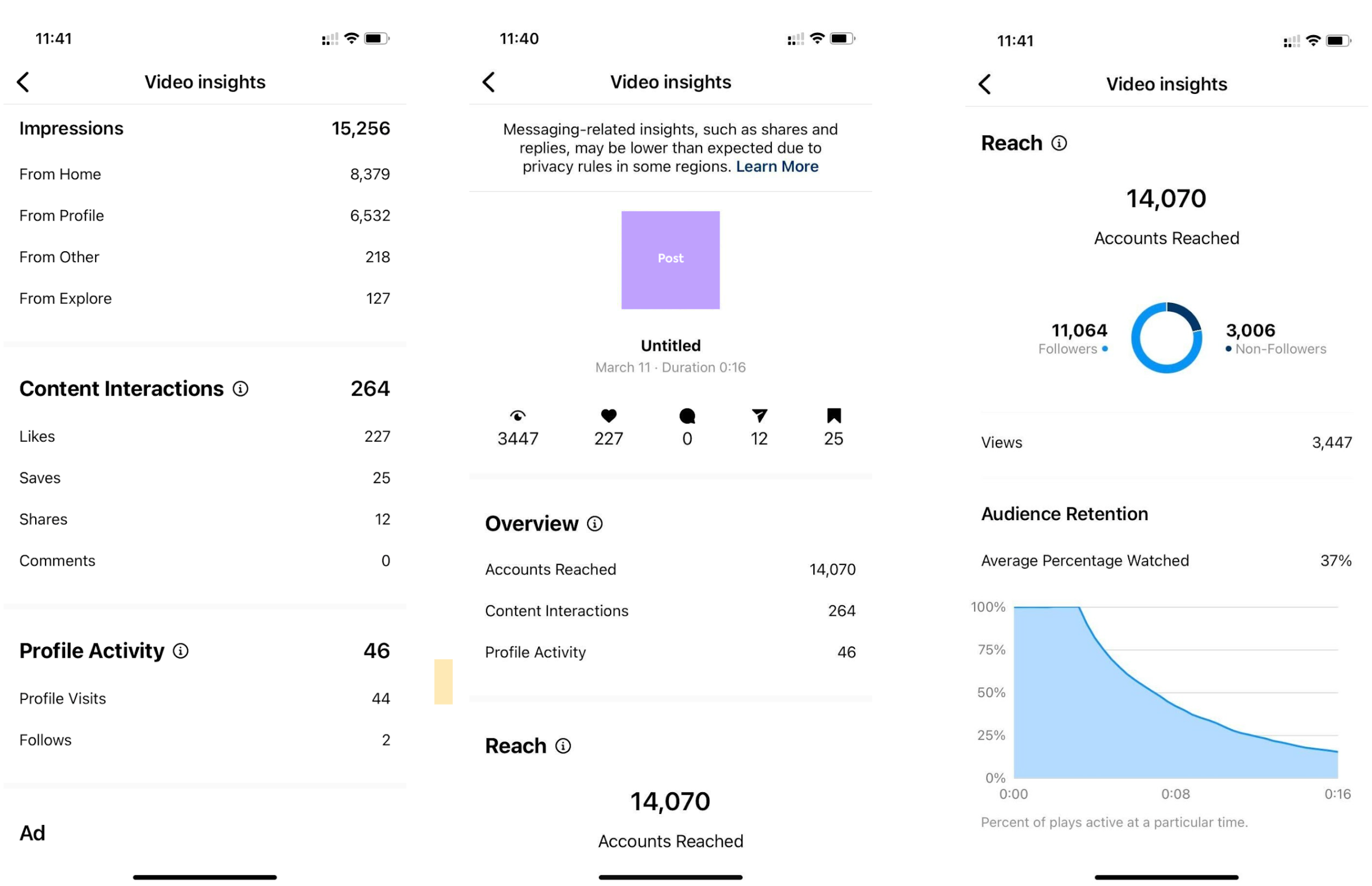 What about Ad Benchmarks?
To place ads on Instagram, you need to set up a business account and connect it to Meta Ads Manager. After setting up your ad reach and audience parameters, you can run the campaign and track the following benchmarks:
Cost per mille (CPM) — the price of 1k ad impressions. According to AdStage, the median CPM is around 6 USD. This figure could change depending on the competition level in the industry.
Cost per click (CPC) — the price of every click on the ad. This number should hover between 0.6 and 0.7 in an ideal scenario.
Click-through rate (CTR) — the percentage of clicks to impressions. Any ad that generates over 2% CTR is performing well.
Engagement rate — the number of clicks, views, and interactions with the ad. The target number for engagement with Instagram ads is 4.6%.
Use advanced analytics tools to get more metrics for your Instagram ad campaigns.
How to view ad insights on Instagram
Follow these steps to view Instagram ad insights:
Visit your profile.
Tap on the "Insights" tab.
Go to "Past Promotions."
Tap on "View Insights" to see detailed insights.
Alternatively, you can view more detailed ad performance metrics on the Meta Ads Manager dashboard.
Open Ads Manager.
Tap on the campaign ad to view metrics.
Tap on "View Charts."
A section appears with options that include Performance, Demographics, Placement, and Delivery data.
Tap on "Placement."
If you have a Post ad, you can track engagement and reach.
To view specific Instagram-related metrics, follow the instructions from Facebook's Business Help Center.
What can you do with all this data?
Gathering advanced data from posts, stories, and reels is only one part of the marketing journey; you need a strategy to implement the insights and generate leads.
Here are the practical ways of implementing Instagram insights to meet your benchmarks:
Optimize the content to improve engagement and performance
By analyzing the insights, you can find out what works for your audience. For example, if videos with cats generate twice more likes and comments than others, pivot your content direction to focus on cat-related memes. Apart from that, you can also tailor the duration of reels and stories to make sure more viewers watch everything to the end.
Post regularly
Gen Z and Millenials have short attention spans (10 seconds on average). If you don't feed them with regular content, they will abandon you for your competitors.
So, create a calendar for your Instagram posts to meet the consistent demand for fresh content. Use post scheduling and reminders to deliver the content in time.
Optimize tags and hashtag placement
Use high-performing, product-relevant hashtags in your captions to increase exposure. When you work with influencers, use the collaboration feature to share the post with their audience. This feature helps the users visit your profile from the influencer's profile, expanding your audience significantly.
Offer value to your audience
Yes, videos of purring kittens can warm hearts, but this strategy won't gain you sales in the long run because it doesn't relate to your brand — unless you are a cat breeder, of course.
In essence, the content you upload to your Instagram must provide value to your audience. Focus on specific pain points and address them in your reels or posts.
Choose the right content format
Instagram marketing is like cooking; you need to get the mix right to prepare a delicious meal. So, choose the format that delivers your brand's message clearly.
And don't forget to use audience interaction analytics when curating your content. For instance, data from Social Insider shows that image stories outperform videos. With that in mind, your stories should feature more images than video content.
Add a personal touch with behind-the-scenes content
Instead of pumping out generic content, focus on offering value to your audience. Use behind-the-scenes content to spice up your brand's social media strategy.
Why take your audience behind the scenes?
It gives your brand a personality.
It helps viewers connect with your brand's story on a personal level.
It shows viewers your process.
You can also share behind-the-scenes content featuring an influencer or focus on user-generated content.
Use a marketing automation platform
Gathering ad insights from Instagram only provides marketers with surface-level analytics. If you want to analyze the entire scope of ad performance, use a marketing automation platform like AdBraze.
Here are the features you can test within AdBraze free trial:
Real-time insights to help you make better decisions.
Multiple creative variations to diversify your online presence.
Templates curated to target audiences and for launching online campaigns.
Personalized customer experience based on real data.
Task manager to boost communication between departments, making interaction more effective and productive.
Cross-platform launch to deploy your campaign across multiple social media channels in one go.
You can also configure these tools to segment your audience based on demographics and other core parameters.
Key takeaways
Running a successful Instagram marketing campaign involves focusing on the right benchmarks and insights to improve leads and conversions. Whether your preferred content format is a Story, Reel, or Post, you need to develop a means of analyzing and reporting these metrics. Use an ad automation platform to gather advanced insights from your Instagram content in real time.