Facebook Ad Library: How to Find your Competitors' Ads
Running a successful ad campaign on Facebook depends on your ability to master how to use Facebook Ad library settings to gain maximum coverage and outperform your competition.
In the past, marketers had to rely on guesswork to find out what ad recipes their competitors were running on Facebook. But with recent changes to the Facebook Ad Library, you now get a front-row seat to your competitor's ad configurations.
Let's explore how to find an ad on Facebook using the Ad Library. We'll also discuss useful tips to help you use those insights to improve your ad campaigns on Facebook.
What is the Facebook Ad library?
The Facebook Library is a platform where advertisers can view all running and inactive ads on Facebook and other Meta products (Instagram, Messenger, and Whatsapp). This platform gives you all the ad information, including the source of funding, target audience, reach, ad spend, and duration.
Following the post-election saga that hit Facebook in 2016, the company came under immense pressure to change its ad policies. And the first course of action was to increase the level of transparency in ad ownership.
From 2018, advertisers could access all the information possible from an ad directly from the Facebook Ad Library. As a result, marketers now focus on these insights to make their ads more effective.
How does the Ad Library work?
When you see an ad running on Facebook, you can click on it to gather all the available information about it. Alternatively, you could search the database based on a specific category. Once you find the ad, you can copy the link and paste it into your browser — or you can just use the report feature to view its details.
How to use the Facebook Ads library
Unlike other automated tools for competitor research, the Ad Library is user-friendly and requires no additional technical training to play around with.
Now that you've gotten a sneak peek into how the ad library works, let's explore in detail how to use this platform for your marketing objectives.
Keep an eye on your competitors
The Facebook Ad library gives you unhindered access to whatever your competitors are doing, including their target demo, locations, and other specific details.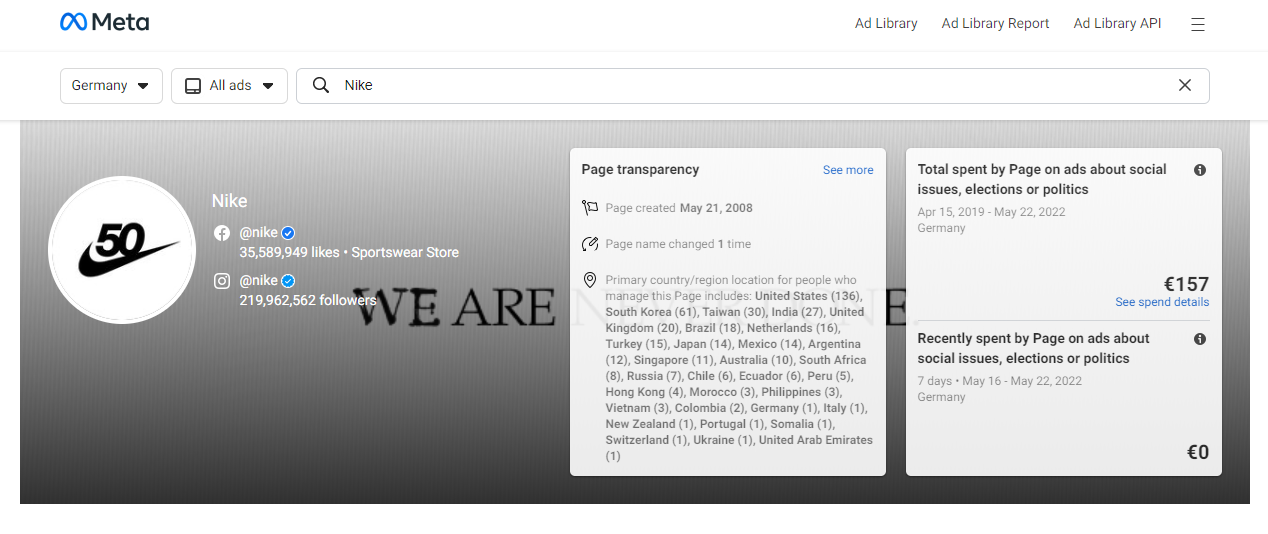 This can form part of your company's competitive analysis by answering all the key questions you might have about your competitor's strategy.
Are they using carousels or videos? Are they testing different versions of the same ad?
Acquiring this data about your competitors helps you understand their best practices as well as their mistakes. And through further analysis, you can identify the best strategy to employ for your ad campaigns.
In addition, you can view your competitors' ads directly from their Facebook pages. You can also use the Page Transparency tool at the bottom right section of the page to get more information.
Use the report feature
If you want to drill down to the very last detail of every campaign, the Ad Library Report feature is your sure bet. This feature allows you to view every publicly available ad on the platform depending on a specific location.
You can also use the Spending Tracker tool to compare how other advertisers are spending on social issues across all Meta platforms. You also specify the ad location to find the number of active ads and the total amount spent.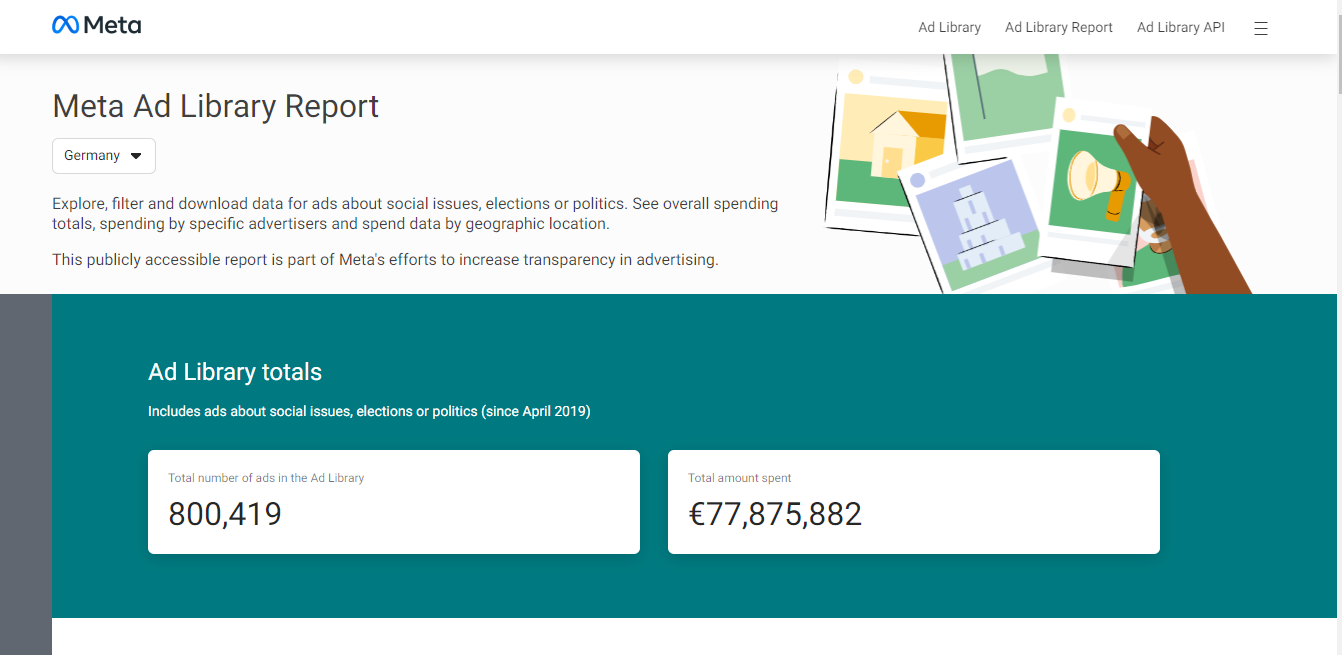 To narrow down your search to competitors within your locale, you should select the location closest to you. This will give you more accurate results for your competitive analysis.
Use filters
Searching for every ad manually is a tiring task, but if you want to save time and get to your destination as fast as possible, use the filters in the Ad Library.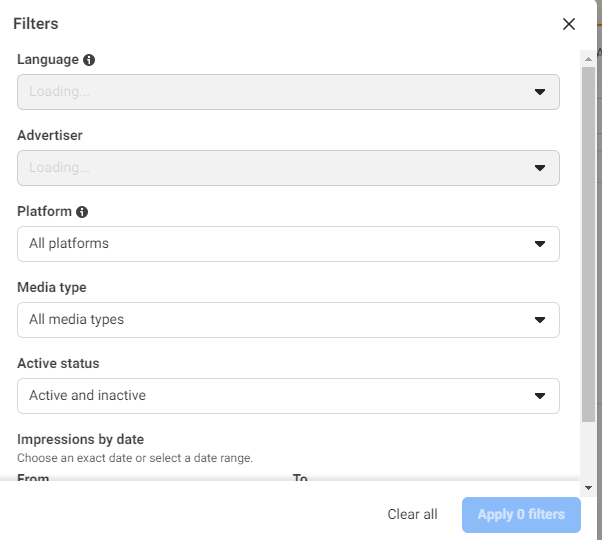 For starters, you can sort your search term by language and platform. You can also choose specific advertisers and select the particular media type you want to analyze—no more foraging through piles of content.
Another filter you can use to monitor your competitors' ads is the date filter. Why does this matter? Because keeping your eye on the date will show you the competitive time frames to avoid when scheduling your campaigns.
For instance, you want to ensure you don't launch a similar sales campaign while your competitor's ad is still running. Don't be surprised if your ad performs poorly when going head-to-head with a direct competitor.
The only exception should be seasonal promotions like New Year, Black Friday, and Halloween. Nevertheless, you should also use these filters to determine the successful strategies you can use for upcoming and ongoing campaigns.
Click on the specific ad you want to analyze
Instead of going through the rigmarole of searching and filtering out ads, you can just view the ad details by clicking on the "See Ad Details" button at the bottom of the ad.
Although this process gives you info about only one ad, you can still use the data to improve your marketing campaign.
Analyze the messaging
After going through technical details like date and placement, you need to switch your attention to the ad messaging.
How are your competitors selling their products?
What is their unique selling point?
What delivery tone are they using?
When you pay attention to your competitor's messaging, you can find inspiration for a far-reaching, coherent marketing campaign.
Check what your competitors are testing
A/B testing is more than just another marketing buzzword that advertisers throw around. If you want to create a successful marketing strategy on Facebook, you must check what works and what doesn't.
Follow this strategy to find out what your competitors are testing:
Filter the ads down to one primary competitor.
Check out ads that use the same visuals but different messaging.
Check out which ad iteration has the better performance and the higher spending.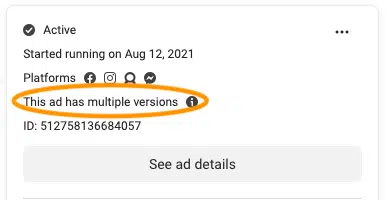 You can also find out if an ad has multiple versions of the ad itself. Click on the ad, and you will see a label that says, "This ad has multiple versions".
How do those insights make my ads better?
Gathering all that data from the Ad Library is cool, but you have to do something with them to boost your ad campaign. Now that you know how to use Facebook ad library, here are expert tips to help you improve your ads.
Be inspired
When viewing ads, don't just focus on the numbers; pay extra attention to the visuals to get inspiration. Although keeping an eye on competitors within your niche is a great idea, you can draw inspiration from brands outside your industry.
For example, if you see a creative ad that targets a tangential audience, you can repurpose the idea for your own campaign. That way, you will stand out from other copycats in your niche.
Adopt a different approach
The best way to beat your competition is to stand out from them. Think about it; if you copy your competitors, you will end up with similar results — and you will never outperform them. So, only adopt their strong points for your campaign.
You should also capitalize on their mistakes. For instance, if your competition is not paying attention to a particular demo, this is your chance to swoop in with your products to capture that online market segment.
Expand your audience
And speaking of expanding your audience, the Facebook Ads Manager platform enables advertisers to spot and extend their exposure to lookalike audiences.
But you can only truly venture beyond the shores of your niche by checking out other industries. You'll definitely find an untapped demo with an intersecting audience pool. Once you spot them, extend your ad's reach to them.
Create a strong messaging
We already mentioned the importance of analyzing the predominant messaging in successful ad campaigns. But you need to hone the messaging and tone of your ad copy to drive more clicks.
Facebook's Ad Library will show you what your competitors are saying in their ads. From there, you can find out what works to help you craft your own unique messaging tailored to your brand's online persona.
Always ask the following questions:
Is the ad copy clear?
Is it convincing enough?
Will people click on it?
Is the tone friendly or formal?
Once you've answered these questions, you can create coherent, relevant ad messaging. Make sure the CTAs are clear and relevant. And most importantly, don't forget to add visuals to the content to drive the message home. Use this ad copy cheat sheet to get started.
Stay in the loop
Monitoring trends and capitalizing on them is a winning formula for long-term gains. You want to tap into the current hot topic while you can.
However, hopping on trends pulls you into the trap door of blending in with the crowd — and you will spend more money to keep in touch with ever-changing trends.
So, find a formula for ads that has longevity. You can copy successful ideas from top multinational brands.
Perfect your timing
Timing is critical when creating and launching ad campaigns on Facebook. If you go too early, you won't hit your target audience. And if you go too late, your competitors will have already established dominance over the market. So, use historical data from the Ad Library Reports page to time your ad campaigns to perfection.
Don't rely on Facebook alone
Meta (Facebook's parent company) has the same advertisement policy across all of its platforms. So you should capitalize on this opportunity to extend your reach to Instagram, Messenger, and Whatsapp. You could also build an email list to boost brand authority within your niche.
Use online tools for further research
You can get a lot of information from the Facebook Ad Library, but why stop there? In the current marketing era, you can harness several competitor analysis tools to improve your ad copy and placement.
Here are some tools that can help you in this quest:
Ahrefs — an SEO tool that helps you analyze your competitor's content.
BuzzSumo — a cloud-based platform that helps you discover the best engagement, content, and outreach opportunities across social and search.
AdBraze — an all-in-one ad and marketing automation tool designed to boost your business efficiency and scale fast on Facebook and other social media platforms.
Outro
Keeping an eye on what your competitors are doing is an excellent way to give your business a competitive edge in the saturated Facebook ads space. With the help of the Facebook Ad Library, you can gather useful information to help you outperform your competitors. Don't be afraid to be different and reach out to a broader audience outside your niche. And above all, use automation and A/B testing principles to boost your ad performance.