Facebook Automated Ads - Who Should Use Them and Why?
Intro
Used by billions of people each day, Facebook works hard to ensure that each of its potential advertisers can get the best opportunities. One of the helpful tools explicitly designed to make the ads creation process easier is called Facebook Automated Ad. Through analyzing business data, it helps businesses to achieve their goals and significantly boost possibilities for conversion.
Launching an ad campaign may often be time-consuming. Besides, for achieving the best results, one has to obtain the solid experience of a professional marketer or a team of marketers. Facebook Automated Ads were developed to solve the issue.
Although Facebook Automated Ads is not the tool that'll do everything for you, it still can considerably simplify ad creation. It doesn't require a complicated setup or technical experience but is able to construct the working ad campaign at a glance.
The article will tell you about the main peculiarities of the feature, its pros and cons, and the cases when it can truly become your best helper.
How to launch a Facebook Automated Ad
You can start working with Facebook Automated Ads by going to your Facebook page and clicking the Promote button.
Below the Choose Ad Type option, select the Get Started with Automated Ads button.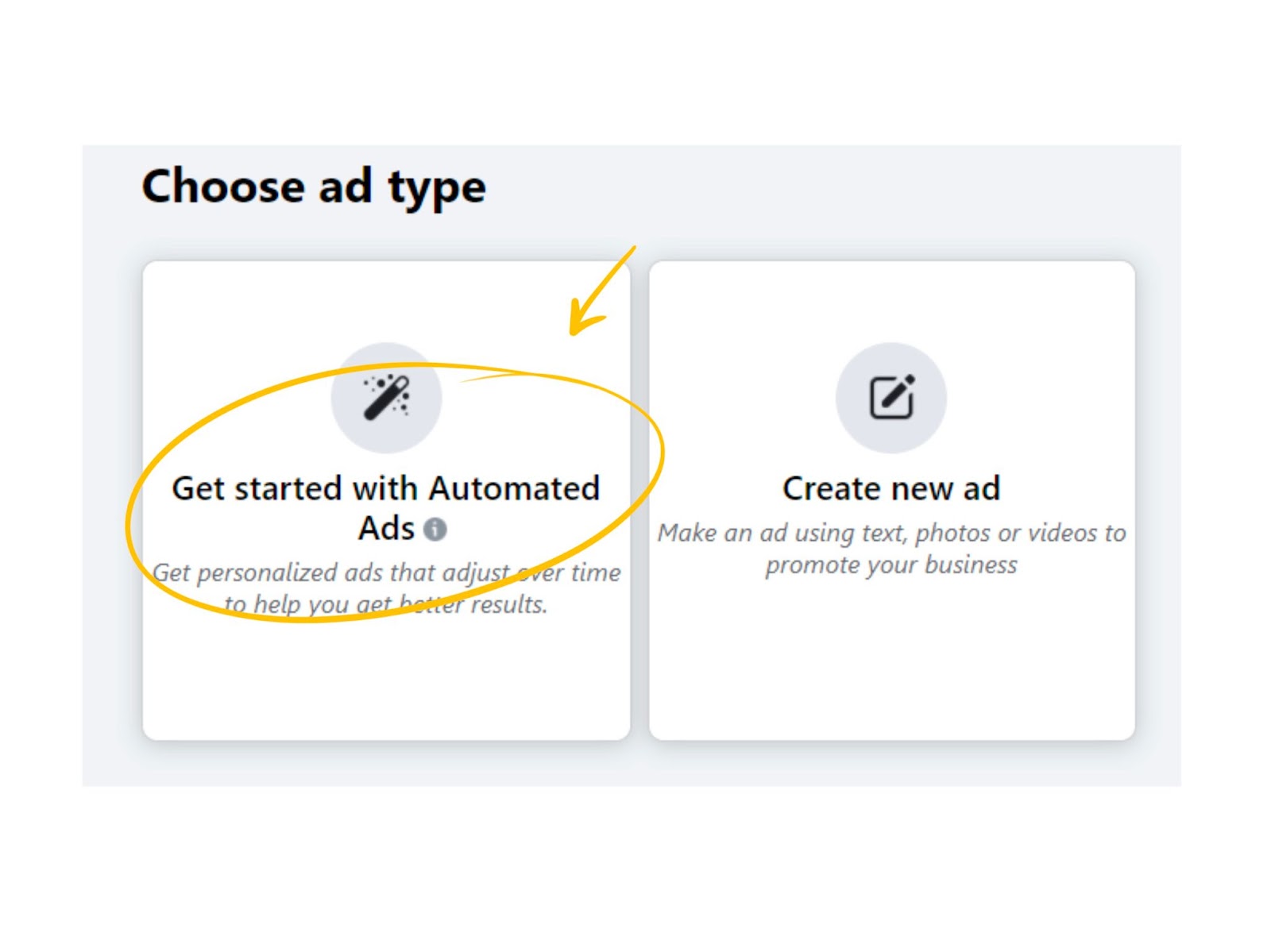 In the window that opens, click the Get Started button.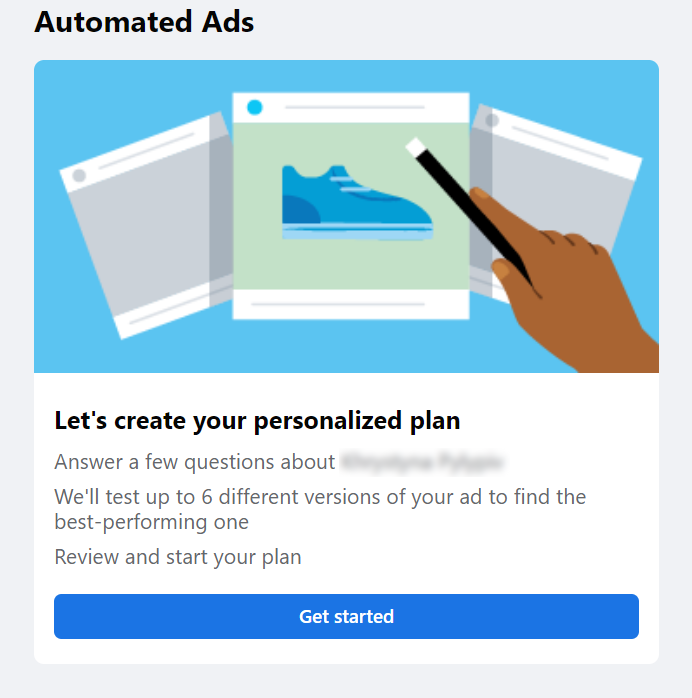 The questions that'll appear after you start up with Automated Ads will help Facebook better understand your business's peculiarities.
In this part, you'll have to answer the question about your business location, availability of a website, preferable categories, etc.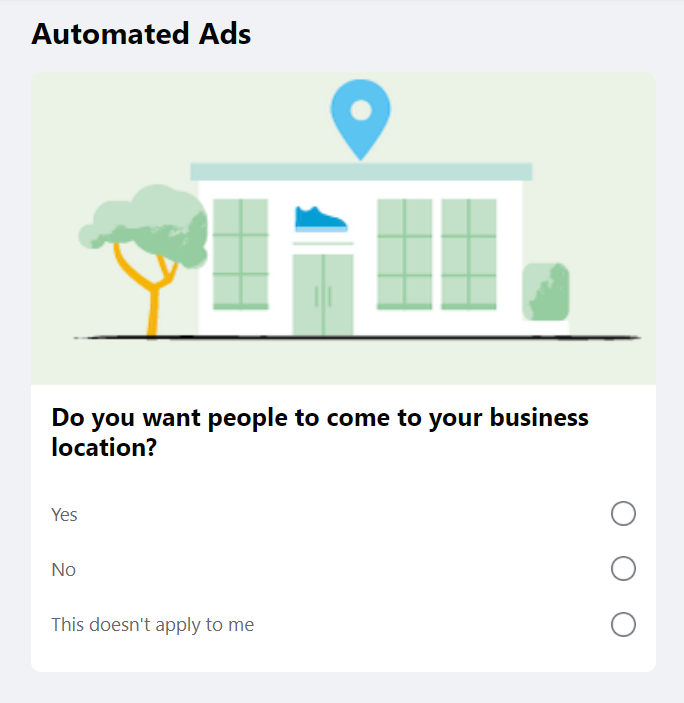 For the next section, you'll have to choose the different ad versions for Facebook to test them further.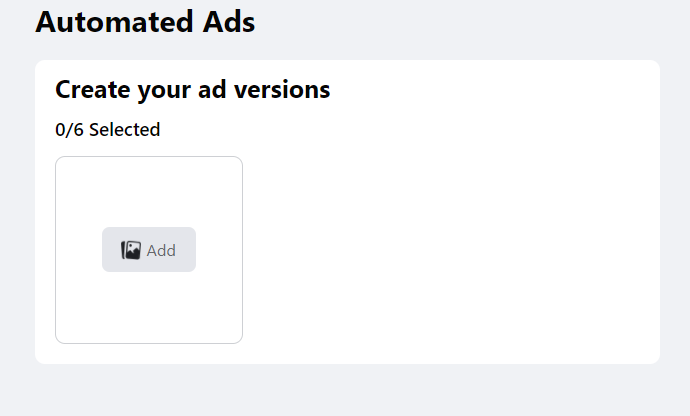 The window allows choosing up to six images by selecting from the previously used photos from Facebook or Instagram accounts, uploading new items, or browsing through stock images.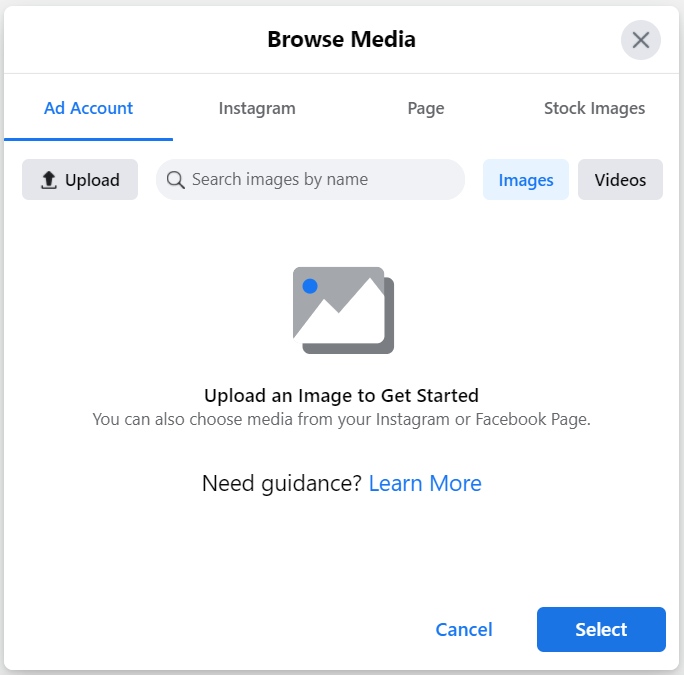 After that, you're transferred to the final page to check and change ad details. The page contains several elements you should process.
1. The first step to follow is to choose the goal of your campaign.
Facebook will recommend the best variant based on your previous answer. However, you can freely change it and choose any other variant from the list. Each one is provided with an explanation.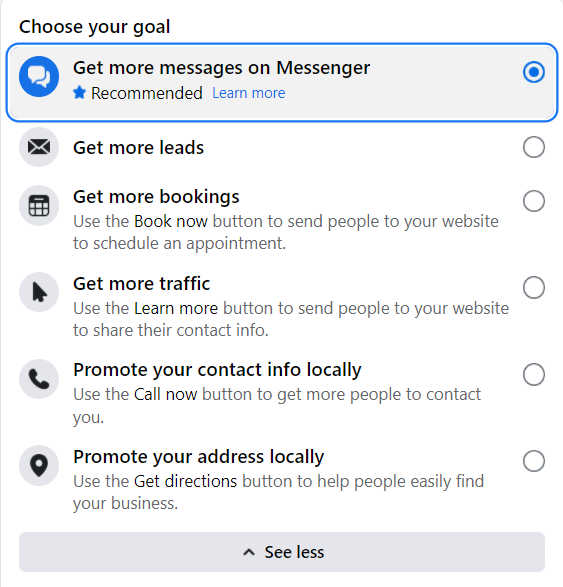 After selecting a specific variant, you'll be asked for additional information. So, if you choose the Get more leads option, you'll also have to fill in the lead form, which appears below.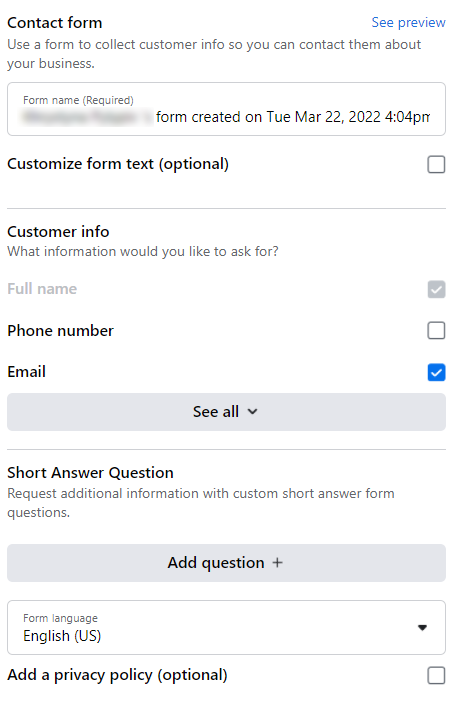 Selecting the options Get more bookings and Get more traffic will require entering the website URL. Similarly, choosing to Promote your contact info locally and Promote your address locally will require entering the telephone number or the address, respectively.
2. In the next step, you'll have to ensure that the prechosen ad design variants look right.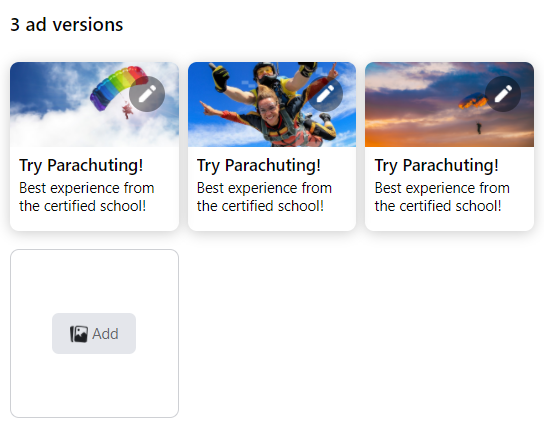 To make your ad version more attractive, you can change
the image
the headline
the description
the button label
You can also delete a specific ad version.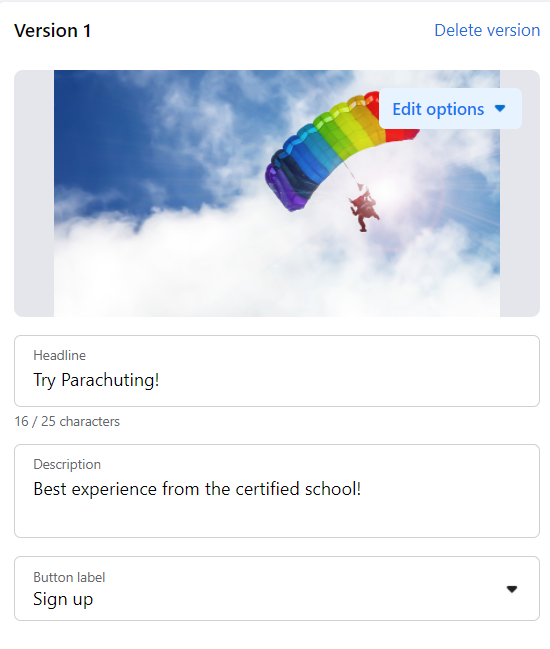 This part allows watching an ad preview.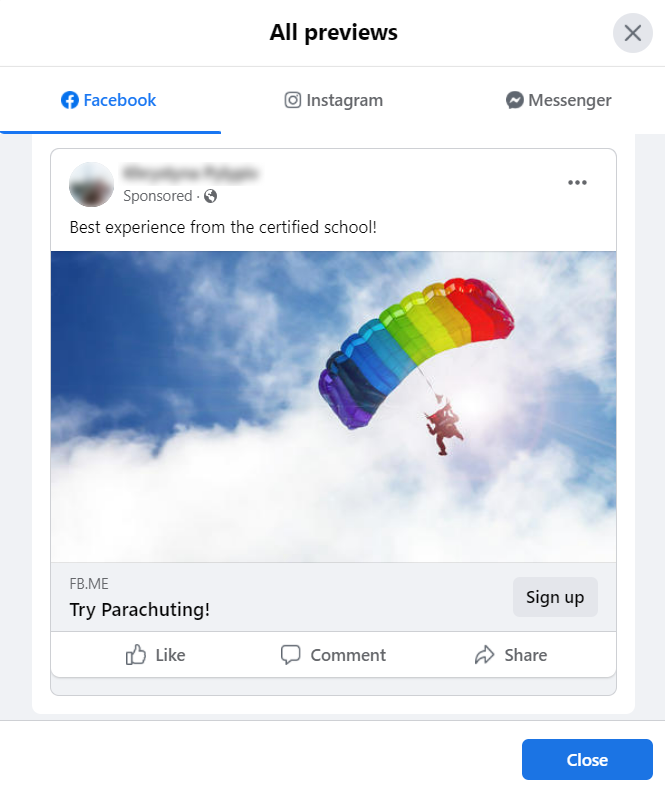 3. In the last stage, you have to check and modify the settings for your ad campaign.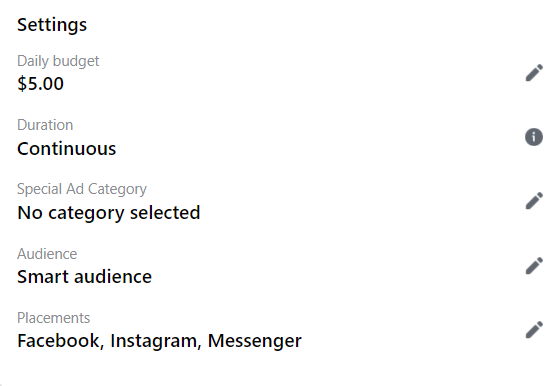 Here you can set:
The daily budget or the sum you're ready to spend each day. By changing the budget, you also modify the number of people reached per day.

Special ad category. Applicable for the ads about social issues, politics, employment insurance, credits, etc. If these don't suit you, leave the No Category Selected option.

Audience or the target people for your ads. The section is modified automatically by Facebook for you. Nevertheless, you can change any elements by clicking on the pencil button.

Placements or the platforms from the Facebook network on which your ad will appear. You can choose from Facebook, Instagram, and Messenger.
You cannot edit the campaign duration since Facebook adjusts it automatically so that it guarantees the best performance. However, you can turn the ad off or delete it any time after its launch.
When you are done with all the settings, click the Promote Now button.
Pros
Automated ads on FB were made specifically for those who lack experience with Facebook Ad Manager and don't have a marketing team. So, if you're new to Facebook Ads, the tool will offer you an easy way to create them and reach new potential customers.
Obviously, Facebook Automated Ads present a variety of significant benefits, among which are:
Possibility to create up to six versions for your ads and modify them manually or accept the settings offered by Facebook. Once your ad is active for some time, Facebook will show the version that'll perform best.
The automatically estimated budget. Based on your business goal, Facebook will suggest the budget to guarantee the best result. Depending on it, the platform will also calculate the number of people reached.
Accustomed audience. Based on the information about your business, Facebook will recommend the audience that'll be most interested in it. An automatic Facebook audience combines a variety of information, including the data about those people who reside near you and may be interested in your services.
Notifications about your ads performance. The timely updates will help you understand how effective your ads are and think about possible modifications you have to make. For your convenience, you can launch the notifications with updates on Messenger.
Cons
Measuring by functionality, Automated Ads can be positioned in-between Boosted Posts and Facebook Ads. It means that despite the option can become a magical wand for certain groups of advertisers, it still has restricted functionality and settings.
Thus, Automated Ads won't allow you to scale, set up ad rules, conduct split tests, use manual bidding, or choose the marketing objective. The absence of those elements makes it impossible to receive better results on a constant basis.
Therefore, Automated Ads are recommended as a transition tool before you master your knowledge about Facebook Ads Manager and learn to use it for the best conversion rate.
So do I need Automated Ads?
If you lack solid experience and knowledge of Facebook Ad Manager, the answer is definitely YES!
Automated Ads don't require much practice, have a simple interface, and help get significant results. Still, they offer more control over settings than simple boosted posts do.
Please take a look at the summary table to learn about the differences between kings of ads on Facebook:
| Boosted Posts | Automated Ads | Facebook Ads Manager |
| --- | --- | --- |
| Easiest to use | Require basic experience | Require considerable experience |
| Launched very quickly | Launched quickly | Launching can take a long time |
| For awareness campaigns only | For leads, bookings, or traffic only | Can be optimized for numeric goals |
| Limited targeting | Accustomed targeting with Facebook suggestions | Complete control over targeting |
Ad Automation platform
Automated Ads make your advertising easier and more productive. Nevertheless, if you're aiming to boost performance efficiency or your team as a whole, you should address Facebook Ads Manager to automize the processes by utilizing its expanded tools. For this, you can also apply solutions such as AdBraze.
Here are several benefits offered by AdBraze:
Launch a single campaign on different platforms

Set up the ad campaign, and feel free to choose any account and any platform to run it. The quantity of accounts you can use is unlimited.

Set up your campaigns faster with templates

The opportunity to save working templates with target audiences and bids will let you immediately apply them to new campaigns.

Upload creatives faster

Use your Google Drive or Dropbox links to upload creatives directly to Facebook. The process becomes as fast as never before.
The Wrap-Up
Automated Ads are the true discovery for small businesses that don't have a marketing team. They require only little technical knowledge but can considerably boost the performance of the ads.
Although they don't provide complete control over ads, they still possess broad functionality. Importantly, they are equipped with regular success updates that'll let you know about the performance of your ad campaign.
Besides, achieving desirable results will definitely motivate you to expand your knowledge on Facebook Ads and soon move to the professional ads tool — Ads Manager.