Facebook Ads for Mobile Apps: Fast Scaling Guide
Companies are trying to get their apps and products in front of the right audience. But due to the current saturation of the Play Store and App Store, getting your product out there has become a massive challenge.
Thanks to social media platforms like Facebook, businesses and individual retailers can advertise their applications to their target audience. And since 88% of Facebook users own a mobile device, your marketing team should focus on Facebook mobile app ads.
Join us as we explore the fastest ways to scale your ad initiatives for mobile apps.
When is the best time to scale?
You've just placed ads for your mobile app on Facebook, but you are stuck between two minds about scaling it or letting it run for a few more days. While you wait, you could be losing potential sales and leads to competitors. So, you need to act fast.
Some experts claim that the best time to scale Facebook ads for mobile apps is within 4 to 7 days of launching the campaign. Our social media marketing specialists recommend tracking the ad's performance for at least three days before making any adjustments.
Consider scaling when the numbers indicate the following:
A high number of unique impressions
A relevance score close to 10 (7 should be the minimum target)
A low CPC (cost per click)
A positive ROAS (return on ad spend)
Now that you know when to scale, how can you choose the perfect scaling strategy for your mobile app?
Facebook currently allows businesses to scale their ads in two directions: horizontally and vertically.
Horizontal scaling
This scaling approach involves making adjustments to the parameters of multiple ad sets while expanding the target audience. Businesses scale their ad campaigns horizontally by duplicating existing ads with a positive ROAS.
One drawback to horizontal scaling is that your ads might start competing against each other, which affects your ROI. You also need enough experience with Facebook Ads Manager to ace this scaling approach.
Vertical scaling
This method involves increasing your spending budget. Just find the ad sets that work and throw extra money on them. But don't blow all your money at once; invest in small increments and monitor the ad performance.
Although vertical scaling takes time, you'll have more control over your ad expenses. Once you've decided on the scaling approach for your Facebook mobile app ad, start spending more money and adjusting the parameters.
Steps to set up your Facebook ad
If you are yet to place an ad for a mobile app on Facebook, follow these steps.
Step 1 — Register your app using Facebook for Developers
Before placing an ad on Facebook for a mobile application, you need to register as a Developer on the App Dashboard. You can find every detail you need for this process in this guide. If this is not your forte, you can get a developer to assist you.
To confirm if the registration was successful, search for it using the App Ads Helper tool. All successful installations within 60 days will appear on the dashboard. You can also access the other interactive developer tools to make final changes.
Step 2 — Set ad objective
Why set an objective for your ad campaign? Well, because it helps the algorithm to optimize the campaign to reach the right target audience.
To set this up, go to the Facebook Ads Manager dashboard, and follow these steps:
Enter the campaign name.
Choose the buying type.
Under the "Campaign Objective" option, select "App Installs" in the drop-down menu.
You can set targeted ads for iOS and Android users, respectively. iOS users are more likely to buy apps, but Android devices have a larger market share.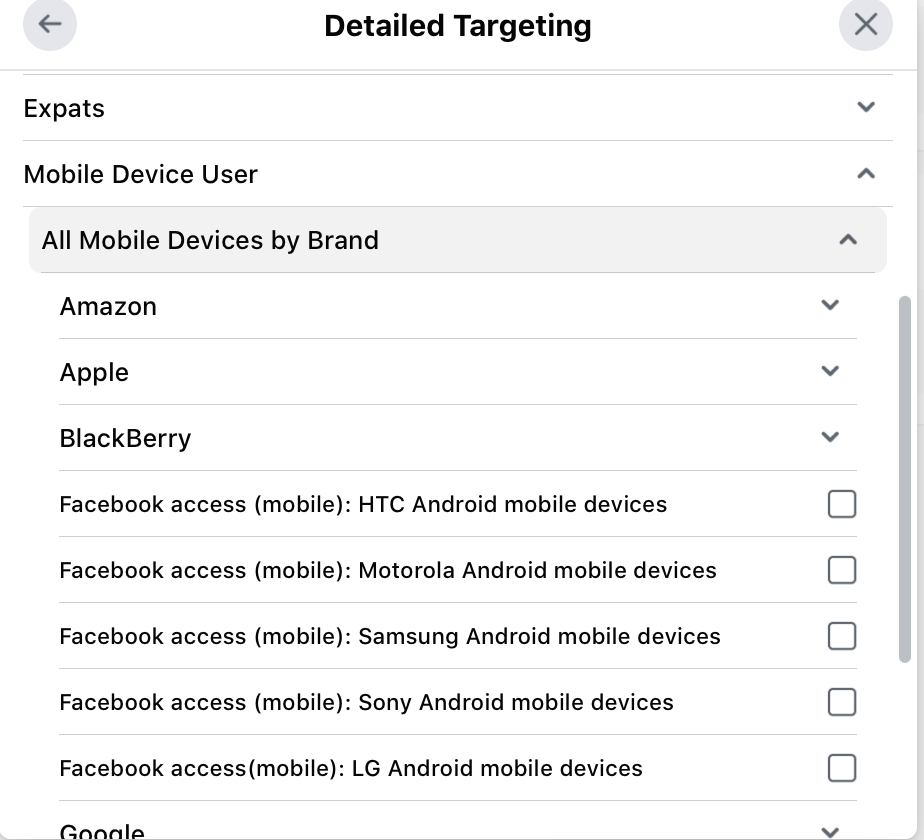 Important notice: Since the release of iOS 14, the performance of Facebook ad campaigns — specifically direct-response advertisers — has declined by 15%.
To learn more about the peculiarities of App Install Ads for iOS 14 (and later) devices, read this detailed guide from Meta, Facebook's parent company.
Step 3 — Specify the audience
If you have carved a niche audience for your product, your ad will target existing customers. But this strategy won't reach a vast consumer pool. You need to expand your target audience to gain more app installations.
On the Ads Manager dashboard, search for lookalike audiences — users from the same demographic composition as your existing customer pool. For this to work, you must target high-value prospects within the lookalike audience.
While extending your app ad's potential reach, you should exclude those who have already installed the app from the new target pool. You can also specify triggers for specific events: one for installations, another for the app launch.
Step 4 — Launch your ad campaign
Before you push the blue button to launch the app install ad, make sure the ad copy is attention-worthy.
Is the text convincing?
Does the headline grab attention?
Is the image relatable?
Is the CTA relevant?
Once you confirm that the ad copy checks these boxes, launch the ad, take a deep breath, and head out for coffee.
Tips to promote ads on Facebook
Some marketers launch their mobile app ads and expect the automated algorithm to perform wonders. Rookie mistake. While the Facebook algorithm can optimize your ad, you need to do some heavy lifting to boost its performance.
From our experience working on Facebook mobile app ads, here are valuable tips for campaign success.
Don't upsell from the start
Advertisers believe that every ad is an opportunity to showcase their entire inventory. Resist the urge to commit this ad marketing sin. If you want users to click on your ads, limit the objective to only one primary task, e.g., app installation.
Adding other sub-tasks turns people away from the ad because they will consider it disingenuous and malicious.
Use images or videos (carousels or single)
When creating an ad for a mobile app on Facebook, don't flood the description with text. Nobody wants to read that lecture. Instead, use images and videos to convey your message.
People want to see someone else using the app, preferably an influencer or celebrity. But why use an influencer?
Influencers give you access to their audience base.
The influencer co-sign is a stamp of approval (or social proof) for the app.
Influencers and content creators know how to connect with people better than most brand marketers.
In general, try out multiple content types using images, videos, and carousels to figure out what works.
Choose the right CTA
A call-to-action button directs the reader on what to do after seeing the mobile app ad. Do you want them to "download the app" or "play the game" on their device? Whatever your campaign target, specify it in the CTA button. Doing so will increase ad performance significantly.
Besides, the Ads Manager dashboard also contains a custom CTA option for App Install Ads. So, you don't need to spend time coming up with anything fancy.
To choose the best CTA for your ad campaign for mobile apps, use split testing to find out what users resonate with.
Spend more on successful ads
Once you see a high-performance ad, spend more money on it. But always be cautious when increasing your budget for App Install Ads; use the ROAS as your guiding light.

Your ROAS is the revenue from the ad divided by the cost of the ad campaign. If the ROAS is above 1, then you are making returns on your investment. Otherwise, you need to pivot quickly.
The process is simple:
Determine the ROAS.
Find the ad frequency (the number of unique views per user).
Expand the budget.
Use referral programs
Referrals can also drive more eyes (and clicks) to your Facebook ad for a mobile app. Typically, these referrals are incentives for users to click or even share the ad with their friends.
So, by offering them a 30% discount for every referral, they'll gladly increase your ad's exposure inadvertently. Most importantly, ensure that the referral bonus is part of the ad description.
Automate ad campaigns
Automation can streamline ad placement and improve ad performance. With an automation platform like AdBraze, marketers can do the following:
Upload creatives directly from Dropbox and Google Drive.
Track ad performance metrics.
Test creatives twice faster.
Reuse successful ad templates.
Generate creative variations for various platforms.
Alternatively, you can use Facebook's Ad automation AI to boost ad performance. This AI recommends new target users for you, notifies you about ads, and creates up to 6 different versions of your App Install ad.
In general, automation saves time and energy spent on manually sorting and posting mobile app ad campaigns.
Move fast
If the App Store is saturated, then the Facebook ad space is a weekend bazaar. Things are moving fast, and trends change every day.
According to AppInventiv, over 3700 apps enter the Play Store and App Store daily. Don't sit on an idea for too long; you are only giving your competition enough time to capture your potential customers. If you have an idea for a creative, start working on it immediately.
Moreover, the Facebook Ad algorithms change regularly; an ad initiative that works today might be ineffective within a week. So, capitalize on the current market status while you can.
Outro
Creating Facebook mobile app ads involves a mastery of the Facebook Ads Manager tool. You can customize the ad parameters to target a specific audience demographic. Alternatively, you can expand the reach to lookalike and new interest audiences.
After launching your ad, don't forget to use automation to monitor the performance based on specified KPIs and benchmarks. This data will show you whether to scale horizontally or vertically. To garner more attention for your ad, use relevant CTAs and referral programs. And most importantly, don't waste time before pulling the trigger on any ad campaign.