Apple, iOS 14 and IDFA: how to involve users under new ads and data policies
In June 2020, Apple announced the changes to the privacy policy. These have already been initialized with the release of the new iOS version. Once again, this technical giant changed rules for those working with mobile traffic. Thus, in 2019, the update made the subscription model more transparent for users. This time it brings the revolution in mobile traffic attribution. Now everyone has learned what IDFA is. However, many do not understand the meaning of the new policy and the adjustments it requires.
The meaning of the update
According to Apple ATT (App Tracking Transparency), starting with the iOS 14 version, developers must request users' permission before accessing data in apps or websites that belong to other companies.
This rule concerns IDFA or Identifier for Advertising — a unique device ID used for user identification on different resources. It means that without users' permission, your MMP (Mobile Measurement Partner, analytical systems of mobile attribution such as Adjust, Appsflyer, etc.) will not receive the information needed for the correct attribution of aim action. Simultaneously, ad networks (Facebook, Google, etc.) will not optimize ad display due to the lack of data about target users of your app. The users will still see many ads, but those will be much less personalized. The situation was similar back in the 2000s.
Many people still search for ways to avoid this update and somehow exchange user data. However, Apple showed it clearly — any attempts to violate the policy will lead to the deletion of an app from the store, even if forbidden data was used indirectly, by your partners or an analytical system, with the code integrated into your app. So each of us needs to take things seriously and prepare for the new reality.
Predictions about the number of users who will allow access to their private information vary. Some say we can expect about 60% of positive responses, while others doubt getting at least 5% approvals. According to the report completed by Appsflyer Performance Index, Facebook is the primary traffic source for non-playable mobile apps on the iOS platform. So, even if you manage to persuade loyal users to share data with you, you will hardly make them open it to Facebook. Without this step, attribution will still not be as accurate.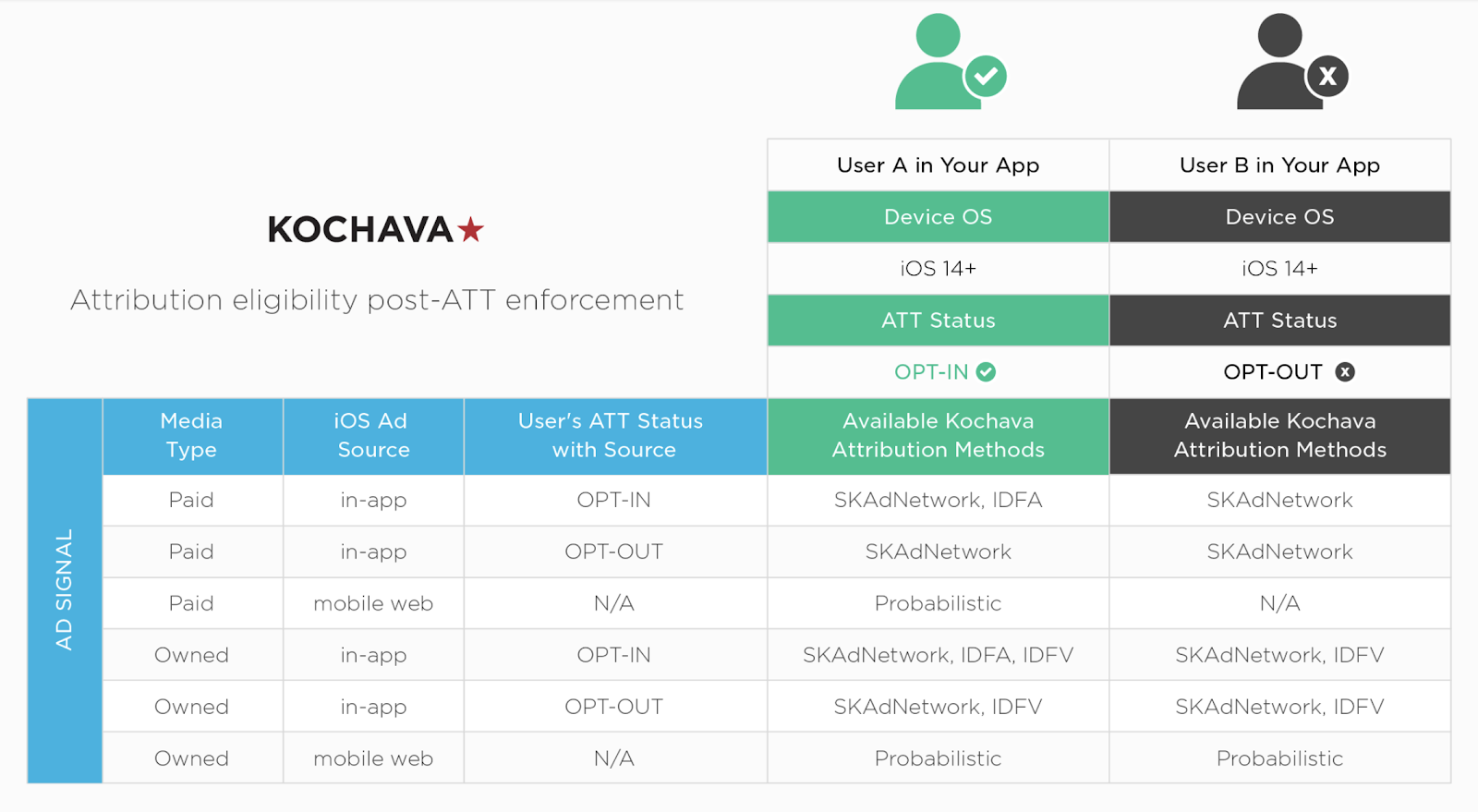 Scales of the problem
The main concern with ATT is that you have a single attempt to request personal data — Apple gives you only one chance. But there is always a way out. For instance, there are no limitations regarding the time to request. So, we can assume that asking users after their good experience with the product will increase the number of positive responses.
One more possible solution is to add an intermediate screen explaining to your users what IDFA is and why you need it. Only after their approval on that screen will a system show a pop-up with a request to IDFA.
However, these two approaches combined in our experience bring only 5% opt-in. So you can hardly expect any impressive results from these experiments.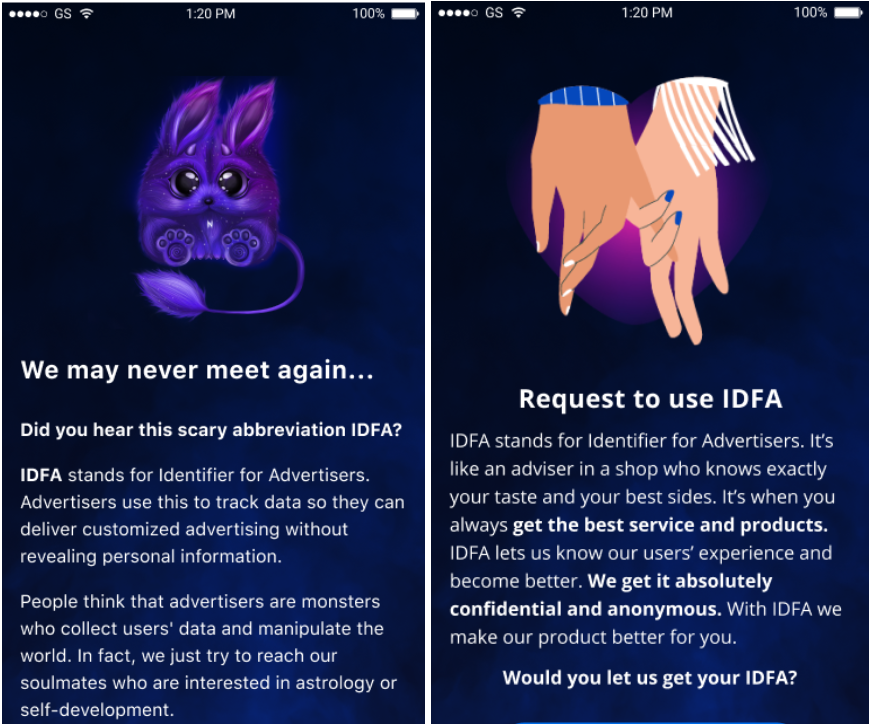 Although users' agreement will become obligatory only in iOS 14.5, the number of users who restrict data transmission seems to increase. Nowadays, people worldwide feel their power over advertisers and stop sharing personal data. So the changes are irreversible.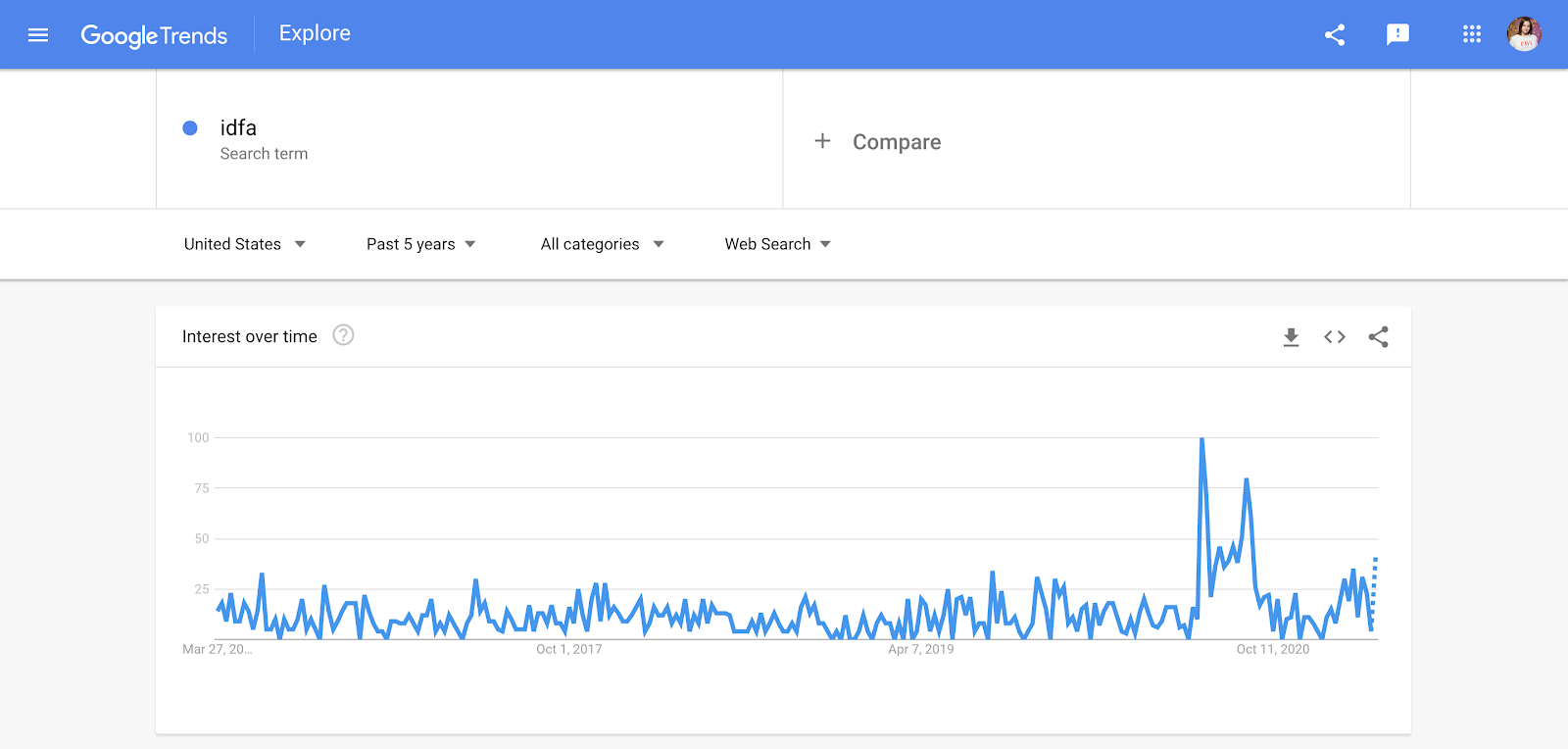 Changes in ads
The local market includes many advertisers who prefer not to utilize MMP for attribution because of the lack of time. But the majority of them continue using Facebook to launch their campaigns. And currently, we cannot be sure about how much they will earn for each dollar spent on ads.
On Facebook, you will have one separate ad account for a mobile app, from which you will target iOS 14+ users and multiple ad accounts for users using previous versions. But you better not rely on the latter group as the transition speed to iOS 14 beats all records.
In the ad account for iOS 14, you can launch only nine campaigns at a time, five ad collections in each. After postponing or deleting them, you will have to wait for 72 hours to substitute them.
Real-time analytics is not supported either, and data can linger for three days. Furthermore, there will be no access to the breakdown into age, gender, region, and location in mobile web or app conversion.
These challenges should be viewed as growth points, not as restrictions or complications. When new platforms are launched, account managers emphasize that machine learning algorithms need time and users to receive enough data and optimize ads. You will never get impressive results in a day. That is the reason why marketing is moving towards automatization.
It sounds trivial, but marketers are also people, and they often fail to watch the negative ROMI of ad campaigns that continue spending budget. So we often make haste decisions just a few moments before we could have received enough data, optimized purchases, and scaled volumes. But now we will have no choices — we must wait. However, this will definitely stop us from making rash conclusions and help get more data. We already have examples of how big companies launch ad campaigns without users' information.
So which data remains for us? For instance, we can analyze details on the side of an ad platform — expenditures, ad impressions, clicks. The analogous breakdown will be accessible on the product if you request users' age, gender, and state of residence. Analytical system Amplitude (mostly free) traces the geolocation of your users automatically, without exchanging data with third platforms. It helps you retain access to it. Thus you will have data about expenditures related to specific regions, users' behavior, and income dependence from locations.
Nevertheless, you will lack details about the interconnection between exact users and traffic channels. For receiving it, you will have to activate your analytic abilities and find the correlation of specific creatives, campaigns, and traffic sources with your income. However, this is an interesting analytical question you will definitely tackle.
How to react?
First of all, do not panic. View SDK (Software Development Kit) of all services integrated into your app and use their latest versions — they are often updated. Being sure that your analytics is launched correctly is obligatory in any case. However, right now, it is vital. Because without user-level data, you will hardly find information about campaign results.
You should attentively study the information from the services about working conditions under the new Apple policy. Make sure that everything is launched correctly on your side. After that, to keep purchasing on Facebook, you should identify how to transfer your data there.
You have three variants:
MMP postbacks

Allows setting SDK/API and making changes to integration settings quickly and efficiently when it is needed. However, you better avoid this method. Try to think in advance which data you will need in the circumstances of restricted resourcefulness.

Facebook SDK

This one looks most attractively as you are probably already using Facebook SDK and will send data to ad platforms.

App events API

It is most accurate and can reduce the 72 hours for receiving data for conversion.
There is no single perfect choice, and you have the chance to test each of them and choose the best fit. Thus, when deciding, I advise you to rely on accessible resources and be ready that none of the variants will suit entirely.
What should the small companies do?
Small advertisers are likely to be affected the most. There is a point of view that these changes can even eliminate them. I disagree with this. As a rule, small companies are more creative and ready to take risks, as this is often the only way to survive and reach heights.
If you have several motivated people and at least a little budget, it is the right time to try everything. Facebook, Google Ads, ASA, Twitter, TikTok, Snapchat, Pinterest — test each platform to include your potential users. Do not stop on Facebook. After the last update, most advertisers will probably stay there, producing tremendous contention.
Analyze results but keep thinking unconventionally. Earlier, we have looked only at the income, but now we should dig deeper. Analyze CP, conversion to target action without any optimization, users activity in your app. The platform which brings the best results should be your primary concern.
If you do not have resources or have already found the most profitable platform, focus on it. After freeing the time previously spent on attribution, you will have more resources to deal with optimization. You have already chosen the platform which brings the most relevant traffic even without exact optimization and targeting.
If we earlier relied heavily on machine learning algorithms and the black box that completed all the work, it is our time again. Hold more tests on your product, improve the mobile app, think about how you can get more out of the users you already have. Be creative, bold, and you will survive.
Advice for the great
But what should you do if you already have five traffic sources that work well and need them all to reach the necessary volumes? In this case, saving profitability will be more difficult.
Let us forget about the changes for a while and think. If you launch ads on several platforms, you probably know something about assisted installs and incremental effects. A user sees your ads on several devices on different platforms. Even in the digitalized world, ruled by data, it is so challenging to correlate all critical points and calculate their input into the overall result. So, in any case, we should rely on experience and professional analysis to understand which traffic source brings more value.
Analyzed without context, some media buyers may seem nonprofitable. But sometimes looking at the overall picture helps us notice that they provide brilliant incremental effect for other channels, increasing overall volume and income.
Thus, remember, if you aim to grow, you sometimes have to rely on your experience and intuition rather than on accurate real-time data. And this remains relevant after the last Apple update.
Over to you
Those who will be the first to accept the new reality and learn to adapt to it will succeed most. Any changes seem scary at first. However, in some years, we turn back and joyfully remember the experience we have managed to gain. So do not search loopholes (Google has already announced the launches of an alternative for Apple ATT), do not attempt to trick your users. Instead, learn to be flexible and adjustable to changes.